N

eural

C

ontraction

M

etrics (NCMs) for Robust Estimation and Control
We created a brand-new Website for this topic!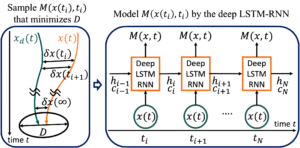 We have developed new deep learning-based framework for robust nonlinear estimation and control using the concept of an NCM.
NCM-based State Estimation and Control
It globally models optimal contraction metrics sampled offline using an

LSTM-RNN

as depicted in (2) of the figure above (Note that the existence of such metrics is a necessary and sufficient condition for exponential stability of nonlinear systems)
The metrics are sampled by the

CV-STEM

, and thus optimal in a sense that they minimize an upper bound of the steady-state Euclidean distance between perturbed and unperturbed system trajectories (see (1) of the figure above)
The NCM is then exploited (as in the CV-STEM control) to design a

real-time

optimal estimator and controller for nonlinear systems with bounded disturbances utilizing their

duality

.
The performance of this framework is illustrated through Lorenz oscillator state estimation and spacecraft optimal motion planning problems. This work is available at https://arxiv.org/abs/2006.04361.
We have a new paper on a Neural Stochastic Contraction Metric (NSCM)!